News
AprilTag Update
The C version of the AprilTag library has been updated with some important enhancements and improvements, and some basic support for OpenCV integration. Get it here: apriltag-2016-12-01.tgz
APRIL Lab Members present papers at IROS2016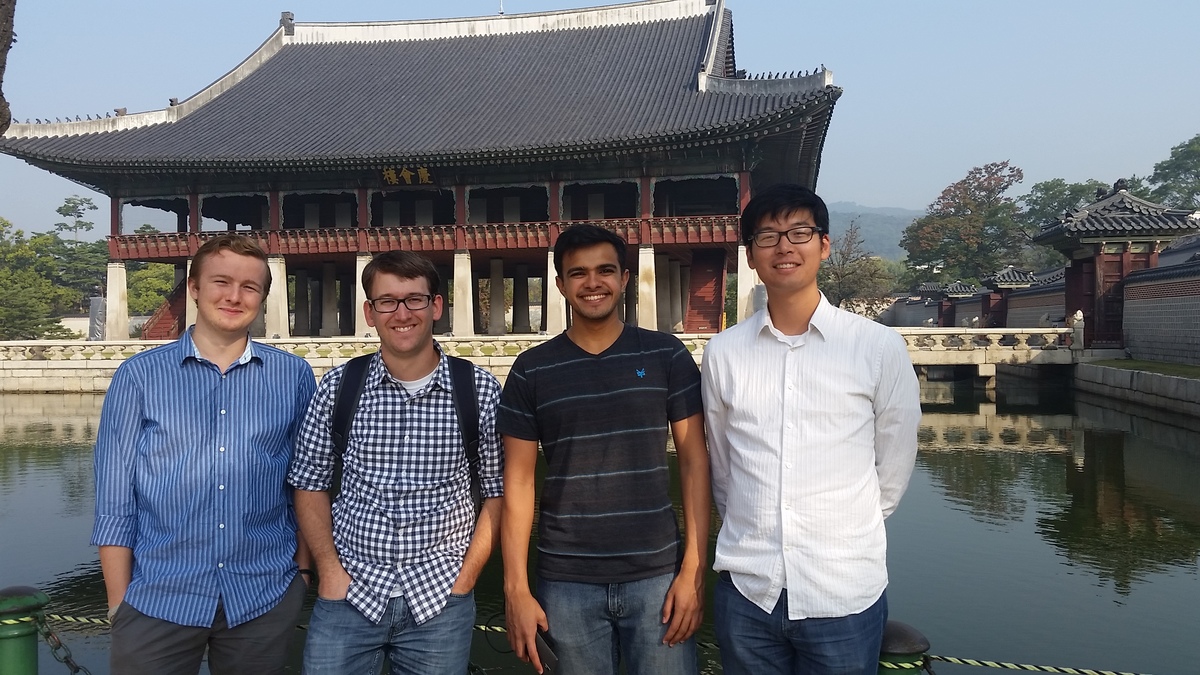 APRIL Lab members John Wang, Rob Goeddel, Carl Kershaw, and Dhanvin Mehta attended IROS2016 in Deajeon, South Korea. Presented papers were:
Lab Renovation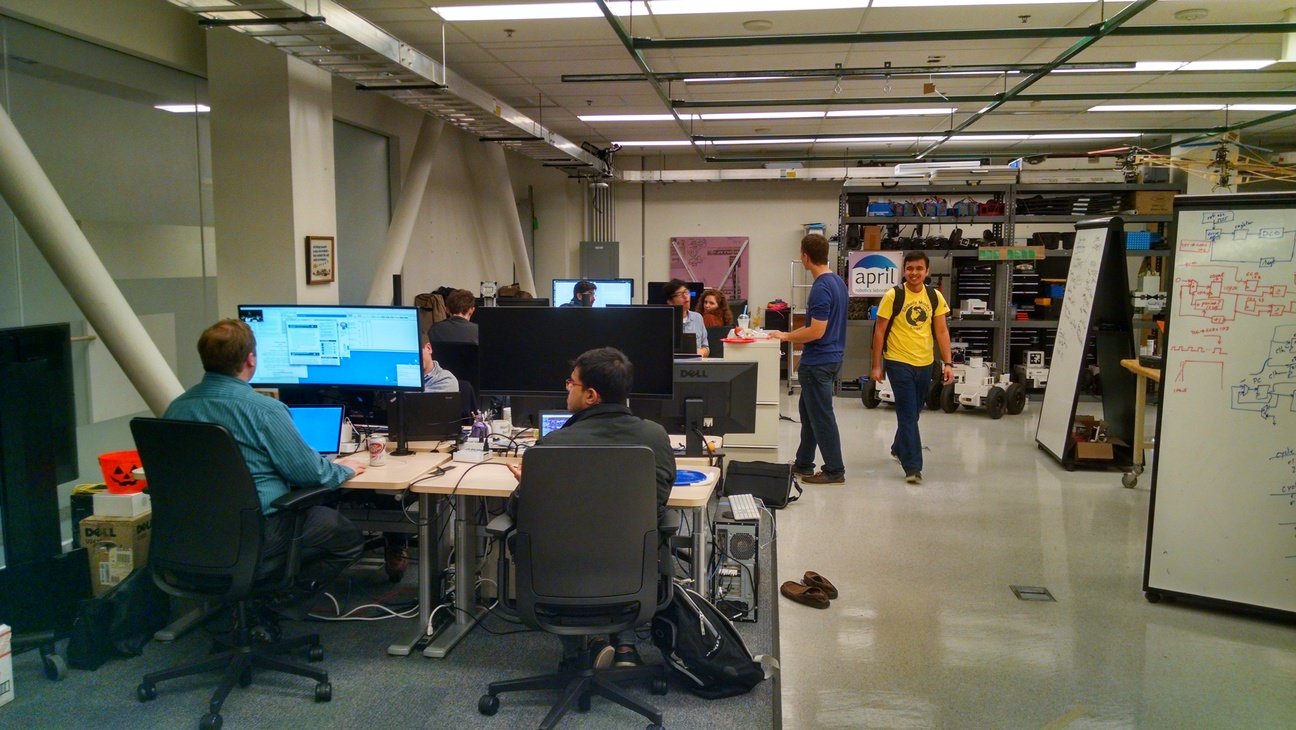 Michigan Robotics is growing, a fact that is all the more evident when you visit our bustling lab space in the Bob and Betty Beyster Building on the University of Michigan's North Campus. When the Laboratory for Progress recently moved in, joining the APRIL Lab and the Intelligent Robotics Lab, we used it as an opportunity to rethink our lab space. Come visit us, now that we're all moved in!
Multi-Policy Decision-Making in the News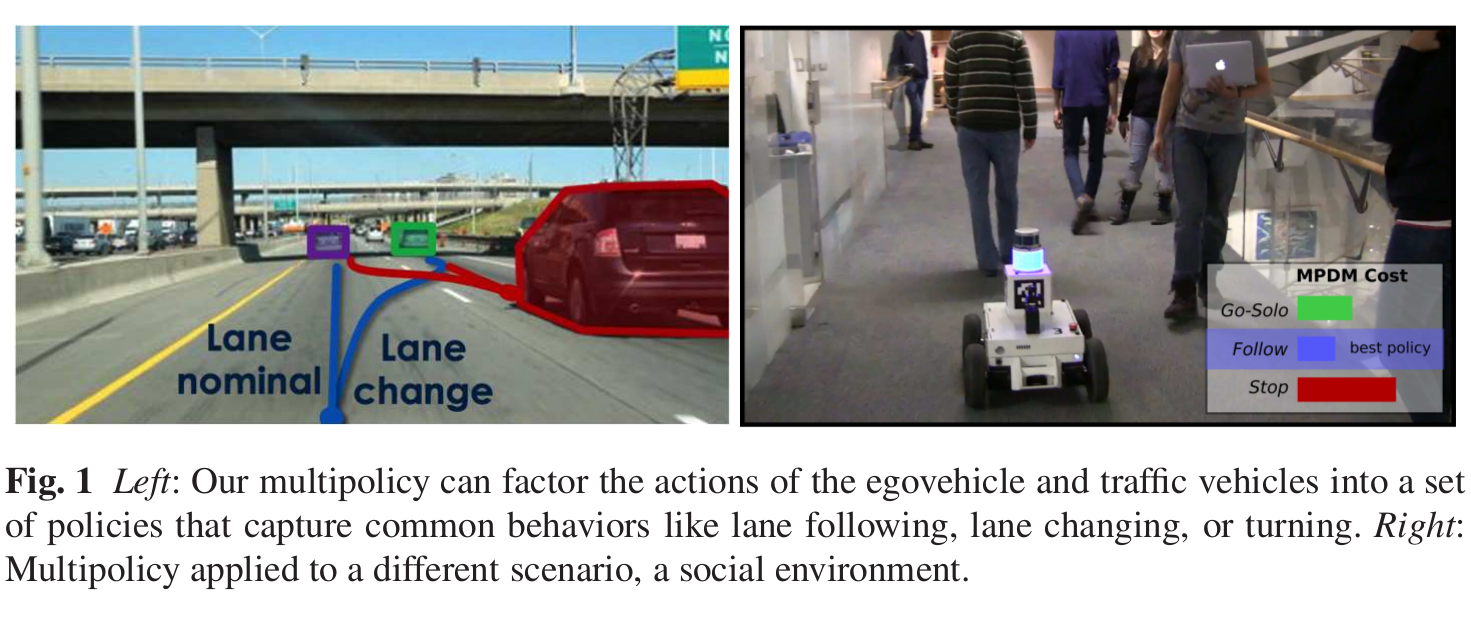 Multi-Policy Decision-Making (MPDM) is a novel approach we have developed to navigation in dynamic multi-agent environments. Rather than specifying the trajectory of the robot explicitly, the planning process selects one of a set of closed-loop behaviors whose utility can be predicted through forward simulations that capture the complex interactions between agents. We have published several papers on this topic (1, 2, 3) and this work has recently been highlighted by IEEE Spectrum. We have more exciting developments on the way for MPDM, so stay tuned!
Muscatatuck Urban Training Center 2016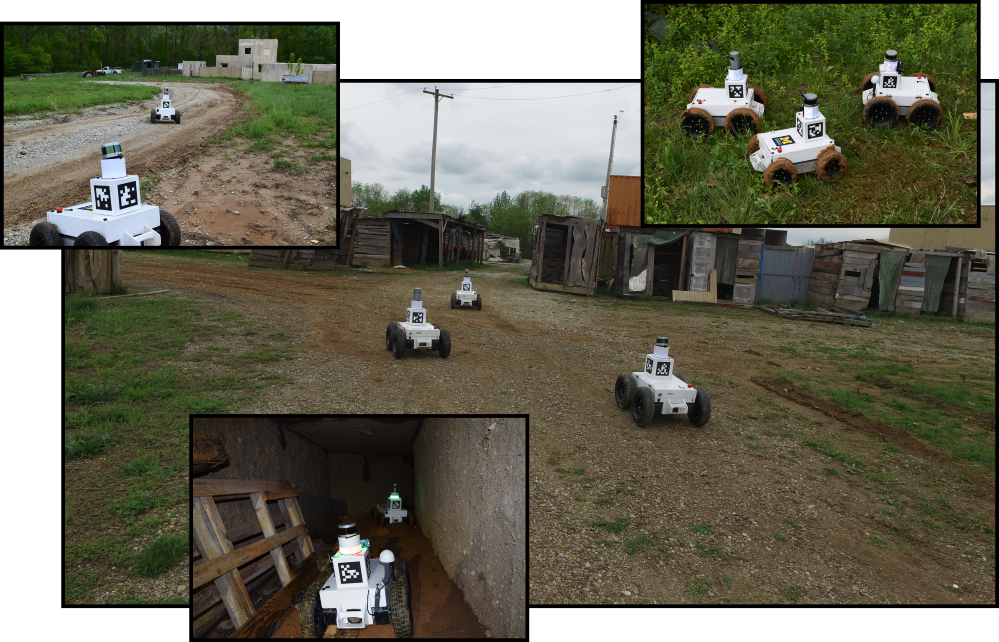 The APRIL Lab visited the Muscatatuck Urban Training Center for the third consecutive year in 2016. We set our robot fleet loose exploring abandoned villages, traversing underground tunnels, and mapping labyrinthine buildings. This opportunity to conduct down-and-dirty field tests outside the lab helped us push the capabilities of our systems forward and see our research in action.
Extracting Utility-Scale Energy from Municipal Waste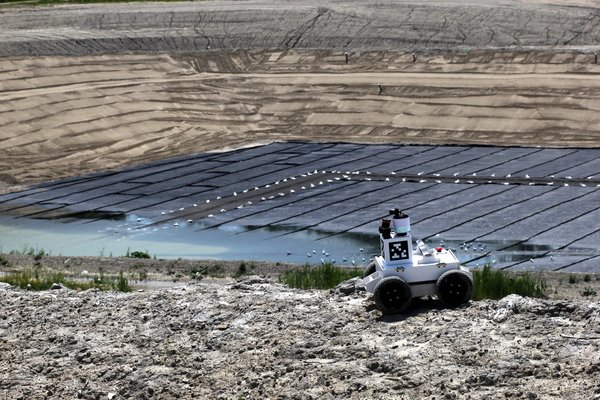 APRIL Lab is collaborating with faculty from the UM Department of Civil and Environmental Engineering under an NSF Cyber-Innovation for Sustainability Science and Engineering (CyberSEES) grant to engineer a transformative means of extracting utility-scale energy from waste using next-generation facilities to be termed Sustainable Energy Reactor Facilities (SERFs). Current landfills leak biogases, such as methane and carbon dioxide, into the atmosphere, where they remain as greenhouse gases. These emissions have a significant environmental impact, yet careful management could reduce their harm and yield a source of renewable energy. In this project, we seek to gain better understanding of the physical-chemical-biological processes that cause landfill methane leaks through environmental sensing and modeling. We are currently deploying distributed sensor networks and autonomous robotic systems in existing landfills to monitor methane production. With better models of the methane production of landfills, engineers can design SERFs to maximize energy recovery and minimize environmental impact.
AprilTags in Space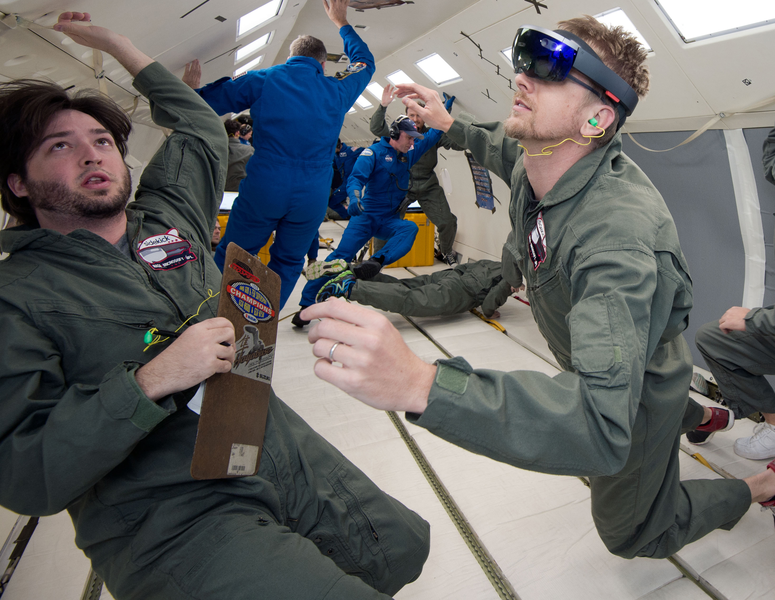 (Photo Credit: NASA) NASA and Microsoft have collaborated to develop Sidekick, a system designed to aid astronauts working aboard the International Space Station. The key technology in Sidekick is Microsoft's HoloLens, a virtual reality device that uses AprilTags for localization within the crew cabin. This marks the first time APRIL Lab technology has been used in outer space!
Second-Generation MAGIC Robot Platform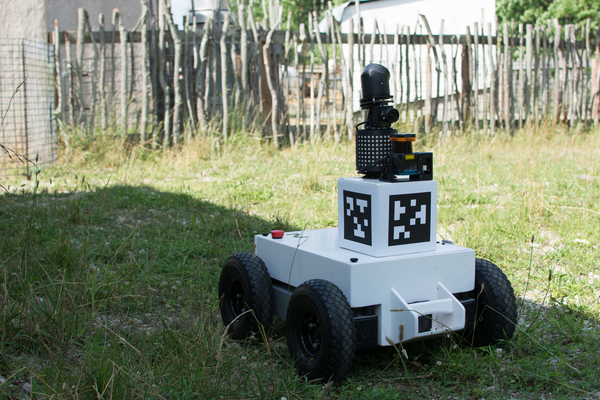 In the past year, we have been building the next generation of the robot platform we used to win the MAGIC 2010 competition. The latest iteration has a number of improvements over the previous model:
An upgraded drivetrain allows the robot to drive more quickly and quietly

All on-board electronics have been integrated into a single circuit board, de-cluttering the interior of the robot and making maintenance easier.

With new all-terrain tires, the robot can drive over small obstacles and operate in muddy areas.

We are developing several additions to the existing sensor suite, including an omnidirectional camera, a high-frequency, short-range obstacle detector and an LED display panel.